In the last few months, the workplace for many of us changed. We became home workers – seeking out the best places around the house to work our 9-5. As we slowly emerge from this forced home working experiment, businesses are asking 'what's next?' for office design and office life in general.
At MBFurniture, here's what we think lies ahead for office design.
Open plan is here to stay
Although it might be tempting to silo everyone back into those grey office cubicles – not only would you be taking a huge step back into the 90s, you'd be doing your workers a disservice. Just because you need to implement social distancing measures for the foreseeable, doesn't mean you should socially isolate your staff.
Humans are social beings; we like to socialise and interact with (some!) colleagues. So keep the walls down and think about sectioning your offices up into different areas with green planters, shelving units or smart workspace layouts.
If you're thinking of introducing plants into your workspace they can do more than create a beautiful aesthetic, they've been found to boost productivity by up to 15%! Take a look at our recent client project below (pre-COVID) – the client, a global tech company, wanted a boutique vibe – planters and bookshelves like these can help you separate areas of your office without making it feel closed off.
Social distancing measures are essential, but that doesn't mean you need to section your office with grey padded dividers. Think vibrancy – plants, warm colours – make the office space inviting to employees.
Collaborative, multi-functional spaces
Although you might ditch the daily scrums or workplace huddles – you still need places that encourage team collaboration. Instead of having staff gather around one desk, you need multi-functional spaces – a space that can transform into a quick meeting spot, breakout space or a quiet area to work solo.
The office needs to adapt to our behaviour and restriction updates. You need to create an environment that is safe and secure for staff while delivering a functional and collaborative space to drive your business forward.
Creative clutter and storage solutions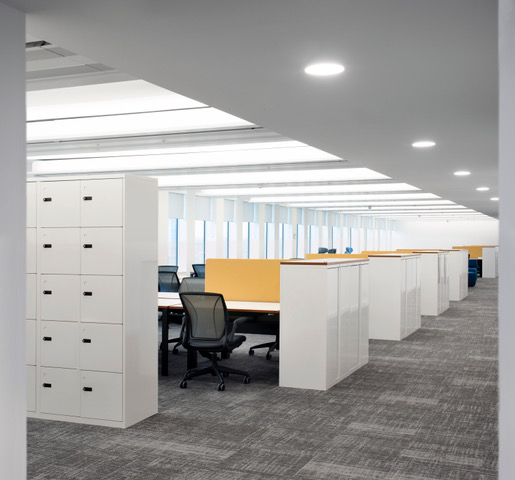 Pre-COVID we had a lot of stuff circulating our desk space; papers, stationery, cups, food – all kinds. But in a post-COVID office, we're having to take better care of our workstations. Cleaning up after ourselves has never been more important.
That's where smart storage solutions can come in handy, just like the ones below. Each employee can have a smart locker of their own to keep their belongings in throughout the day. Solutions like these keep your office looking tidier and help keep them cleaner, too – mitigating the risk of cross-contamination.
We completed this project for a client's headquarters based in London. The client wanted an end of desk storage and locker storage solution to tie into their current office space. The locker storage has combination locks – which suits this particular client as the users change daily.
There's no key management – they are self-serving.
If you're looking for something similar for your office, call us today on 01932 379 427 to discuss your project.