It's fair to say that the global coronavirus pandemic has knocked all UK businesses sideways. While we're all trying to make sense of our new 'normal', it's essential to think ahead to your office layout – what changes will you have to make to ensure employees feel comfortable and safe?
We believe communication and socialising shouldn't be comprised in the workplace; after all, it plays an essential role in the day-to-day running of any office environment. Without interaction, employees can feel isolated and disconnected from their work and the team members around them.
At MBFurniture, we understand that, as an employer, you're probably feeling the pressure to adequately adapt your office environment to adhere to the Government's latest guidelines.
We've witnessed tape markers for the high-touch and high-traffic areas of your office – areas including the kitchen, coffee stations, water coolers and toilets. These are all apparent and straightforward distancing measures to outline with tape on the floor. But what about desks and workstation layouts?
We're sharing some of our top tips, with some product suggestions from our furniture partner, Bene.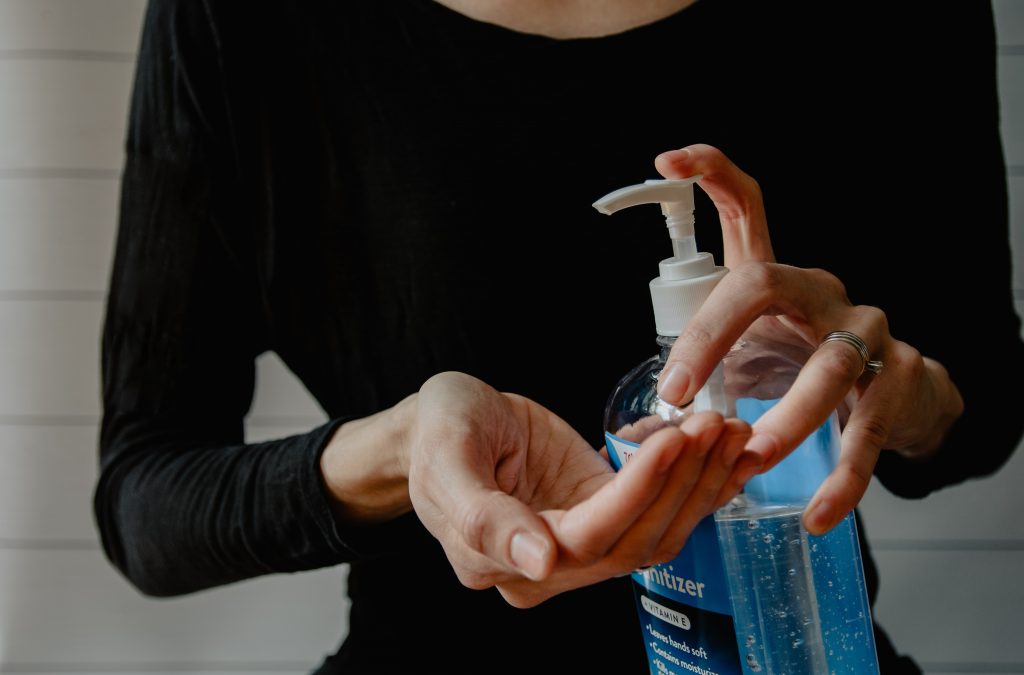 Say goodbye to sharing
It isn't feasible or realistic to continue implementing hot-desking areas in your business. There should be one person to one desk each day. Now is also not the time to be generous and lend out personal equipment – from pens and coffee cups, each employee should have their own equipment for their use alone.
If possible, employees should bring in their own personal keyboard and mouse. Just having the surface of the desk to disinfect means the challenge of keeping everything sanitary at the end of each day a little easier.
Employees should have their own cleaning products
If not for easing their own anxieties, it will go some way to ensure other employees feel more comfortable in the space, too. Think hand sanitisers, disinfecting wipes and sprays. Each employee is responsible for their own workstation, at least until a cleaner comes in after each workday.
To ensure work surfaces are kept clean, you need to implement a solution to keep desks clutter-free and generally very tidy. This could mean providing each employee with a tray or folder system to keep paper off the desks.
Install desk shields
Installing transparent shields between each desk means employees can still communicate with colleagues effectively while respecting social distancing guidelines. This can mean you won't have to shuffle all your desk layouts around – this is a particularly good option if you're looking to keep costs down or don't have the space to move your office furniture.
This photo by Bene shows how effective a transparent screen can be in the office environment. You can work as usual from your desk and interact with colleagues easily. The protective shields from Bene can be used as individual elements or in combination. A universally applicable solution that offers employees, customers and suppliers the best possible protection.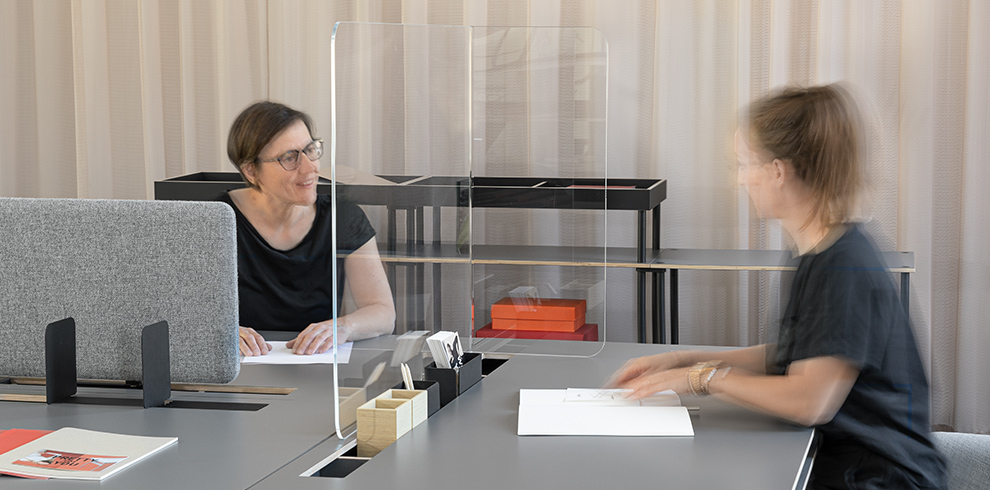 Additional steps for employers:
Installing hand sanitiser dispensers throughout your office
Motion-sensitive lighting, reducing cross-contamination via light switches
Wipeable and non-porous surfaces in high-touch areas (kitchen, coffee station, desks etc.)
All employees are required to eat at their desks
Trialling out half staff occupancy, if possible, to ensure social distancing is respected and maintained (or shift rotation, half staff in Mondays and Tuesdays, rest in Wednesdays and Thursdays at different desks)
Chat to us today about getting your office ready for a return to work. Make your employees your priority, and let's get your business back on track. Email us on info@mbfurniture.co.uk or call us on 07833 310 671.